I hit the mother load on Mother's Day weekend! Yes, Mark treated me like a Queen Mother! I've had a list of "wish" items and he drove me around several towns for a few days and made it happen. I needed new running shoes badly, I think I've clocked almost 700 miles on my current pair. That's obviously very bad.

I wear Saucony Ridge Trail, as I run on a gravel/dirt road. I needed (wanted) a few things from Lowe's and at the top of my list was: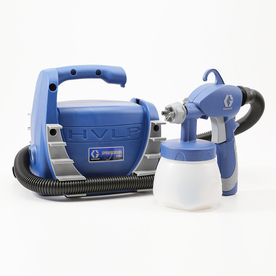 ... the "Paint Sprayer", which every DIY girl needs! It's wonderful! It's the
Graco 2900 model
,
a good light weigh sprayer for small jobs, such as this cedar chest project I'll tell you about.
This before photo was taken in the garage of the lady I bought it from. She was asking $25 for this hope chest, which is a Lane. But when I got to there to look at it in person it was in such horrible shape I wanted to drive away empty handed. However I'm a sucker for a project like this one, so I offered her $20. She quickly, TOO quickly, agreed and then said, "Great. I was just going to burn it anyway!" It is 30 years old and was stored in a garage way too long. One of her dogs had chewed up a couple of the corners, the base was completely crumbling because of water damage, there was white paint stained all over the front, the inside lock latch is missing and I think a small child might have practiced his knife skills on the edges. However, the inside was in perfect condition (or close to).
I have to just say now how much I love my Mark. The end of this month we'll be celebrating our 32 wedding anniversary and I love him more and more every day! Especially the day he helped unload this diamond in the rough! No wonder we're married. He said, "Well, we can rebuild the base completely." Did you get that? "We"? I'm blessed, I know it!
Turns out even that part took WAY more time than even he imagined. He used what was left of the old base as a pattern and cut and constructed a new base, as solid as ever. He knew it had to be solid or the chest would just be a flimsy piece of furniture. It took him half a day but it's perfect!
So...back to the paint sprayer.... I've got one coat of paint on and hope to do a second coat this weekend. I took off the fake drawer pulls to clean them up while I painted. I had a brilliant idea to soak them in Acid Magic....overnight. Oops. Acid being the overnight operative word: not a good idea. They are no long usable so I'll find another set to replace those.
I'll try to post the final picture later.
Back to Mother's Day: We picked up 6 more blueberry plants from 101 Plants and Things down in Bandon on Highway 101. It was the first time I've been there and was very impressed with the quality of their plants. We'll go back for a few more blueberry plants soon. Our berry garden is doing great now, the raspberries are growing fast and the blueberry plants are doing much better after some ground work. (That "ground" work is when I hurt my foot but that story is too long to tell here!) The old strawberry plants that have perpetually been growing now for 21 plus years, since my sister Roberta had a bunch sent to me as a "Welcome to your new home" gift when we moved here. They do need to be completely removed now as they barely bare any berries....... okay getting tired now!
More later, hopefully sooner than later!
Blessings,
~Heidi
PS Thank you for all your sign orders!